Hey everyone! 
Hope you all are doing okay out there 💕 
As the world gets darker, the light continues to shine! Music and the WORD have really been keeping our spirits up. We made an inspiring behind the music video for you that you can watch here.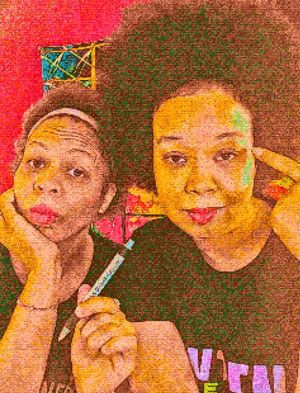 What's new with Queen?
2 new songs recently released!
"He is Worthy" (Uplifting Praise & Worship)
"Worthy of Love" (For Women With Trust Issues)
Other encouraging videos recently uploaded:
Hold On To Your Faith (in this crazy world!)
https://www.youtube.com/watch?v=-g_MVF2n2hk
"I AM" Morning Affirmations 1 and 2  (for a positive day!)
It's amazing how Yah has been with me this whole season, since my injury Oct 7, 2020. He has literally given me supernatural joy, motivation and strength to accomplish more of His purpose in spite of all the hardships faced. He is truly awesome and WORTHY to be esteemed!
Many of you know I'm preparing for knee surgery in a few weeks. My sis Joy and pops Harold will be right there with me for support. We sincerely appreciate all the prayers that continue to go up and donations that continue to come in. Thank you for making this process so much easier to prepare for. We're believing for a smooth reconstruction of the ACL/Meniscus and a speedy recovery! The actual day of the surgery is Sept 7th. Prayers up, thank you!
What's new with Cameron Joy?
The line up is official and the artwork is the final step before release!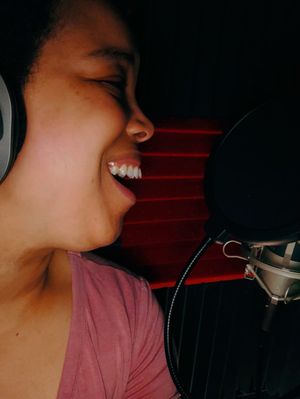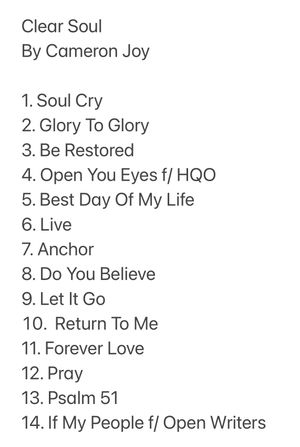 If you haven't heard the new song "Live"... it's #6 on the album, and I actually leaked this song on the recent livestream we did on our Open Writers YouTube channel, so be sure to watch and take a listen.
Also, be on the look out for new behind the scenes footage of the musical process. I have a ton of video clips I can't wait to share!
By the way, me and sis are showing our unity again with #4 "Open Your Eyes" - a fun and energetic song that will definitely get you up and moving! This whole project has been a true labor of love and finally coming to you soon! Get the latest updates from my official website: www.cameronjoysings.com
Announcing the August  "Extraordinary" ♬ Give-A-Way Winner 🏆 
For those who just came into contact with us, we have exciting giveaways for our newsletter subscribers every month. 
The August 2021 winner is ( 🥁…….) 
Dante S 👏🏽📣 
🥳Congratulations! You'll receive a free download copy of  "Extraordinary" 🎧 
Be looking out for an e-mail (check bulk/spam).
 


💞Thank you all for your continued support! 
Here's a few commonly asked for resources and links:

😊😁
Queen & Cameron Joy
(Open Writers) 
We love hearing from you! Let us know if you have any questions, feedback, or comments. You can leave them in the section below 😊